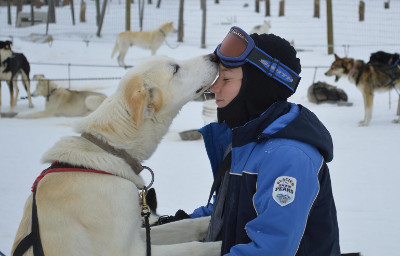 Reservations Are Available Through July 31st, 2018
Dates for August 2018 will be added on March 1st, 2018.
NOTE: Our ride is a passive activity in which our guides do the driving, and all customers are passengers. All of our rides also have weight and height restrictions.
It is Winter Dog Sled Ride Season!
Our sled rides are open, and we have just enough snow to get around the trail. You can make reservations at anytime by using our reservation system


This is what it looks like getting ready for a ride.

Sled Prices Range from $90 to $269 per Sled

Click here for all the pricing combinations. We use a dynamic pricing model, so the price changes depending on the day, how many people are in the sled, and whether the guests are adults or children.

Winter Dog Sled Ride Times

Winter Dog Sled Ride tour times are currently 9:00, 10:30, 12:00, 1:45, 3:15. These times will change regularly starting in March as we try to stay near sunrise for the first trip of the day. Go to online reservations to see the times available on specific days.

Not ready for a ride? Come take a look.

$5 per person. If you are not ready to take a ride, but would like to observe what we do, set up a time to come take a look at sleds leave, or return. We can only have observers on days the guest wrangler is working. We can not do a full kennel tour, but you can at least watch teams return from a trip and pet the dogs and take pictures with them. The available times to observe for today and tomorrow are

Tomorrow

Thursday, February 22nd

Kennel Handler Experience is Open

The kennel handler experience is a hands-on experience where you will do all the work of a regular kennel handler. In the winter, you help the mushers move the dogs and get ready in the morning before the sled rides begin.

Check-in time is 08:00 daily.
$50 per person. No one under 16 permitted.

Virtual Kennel Tours are Open on Select Dates

Virtual Kennel Tours are very similar to regular kennel tours, except you can take part from the comfort of your own home, school or anywhere else in the world.

Tour times: Days that we are not driving sleds.
$1 per person. $50 minimum.

Full Kennel Tours are Closed until April

Kennel Tours are walking educational tours of the kennel area. You will learn a ton about what we do here.

Tour times: 10:00. We can modify our schedule to accommodate larger groups.
Adults: $20, Children ages 6 to 13: $10, Children under 6: $5
---
---
Videos from our YouTube channel
---
Huskies for Apotion
We often have dogs available for adoption. You can see our current list on our adoption page.
Call (970) 387-8326 or click here to schedule the experience of a lifetime.