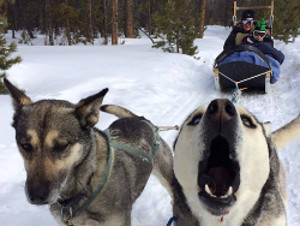 Pricing
2% cash discount available
For the prices below, adults are 12 years and older, children are ages 3 to 11. Children under 3 years old ride free with available space. Most of the time the ride is suitable for healthy people aged one through eighty.
Also, there is a 350 pound (158.7 kilogram, 25 stone) weight limit for the combined weight of the passengers PER SLED. If you add a third person to the sled, the third person must be 48 inches (4 feet, 1.21 meters) tall or shorter and all guests must have a combined weight below the limit.
Please be aware that winter clothing can add as much as 15 pounds per person.
WEIGHT AND HEIGHT LIMITS SUBJECT TO CHANGE BASED ON TRAIL CONDITIONS.
If you weigh in over our weight limit, one of the following will apply:
We will be unable to take you for your ride (Please see our cancellation policy)
One or more persons in your party will not be able to ride.
If we feel it is safe to accommodate your weight, you will be charged $1 per pound that you are over our current weight limit.
See our weight limit page for a more detailed description.
---
*
Our sled prices are subject to a
dynamic pricing
algorithm. We analyze historical demand for each day of the year and alter the retail rate by some factor ranging from 0.5x to 1.3x. For example, if the retail price of a sled is $200, and the day is a very high demand day like the day after Christmas, the pricing factor would be 1.3x making the cost of the sled $260. To see what the price multiplier is for each day of the winter season,
click here.
* Prices DO NOT include gratuity.
---
* Prices DO NOT include gratuity.
---
* Prices DO NOT include gratuity.
---
Virtual Kennel Tours

All ages
$1.00
Minimum fee for a virtual kennel tour is $50.
---