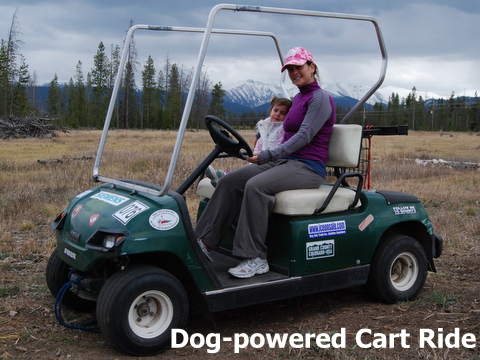 Cart Rides
Call (970) 387-8326 or click here to schedule the experience of a lifetime.
Our dogs love to pull. They prefer pulling sleds on the snow, but when there isn't any snow on the ground, they'll pull anything you put behind them. We decided to get a couple golf carts and let them pull those!
The Ride
Here is a basic timeline for our cart rides.
Arrive at your scheduled ride time. If you show up early, we may not be ready to receive you.
Check-in with the Guest Wrangler in the smaller green building.
Sign the liability waiver.
Receive driving instructions. Yes, one guest per cart will be driving the cart.
Make sure you have your hat, gloves, glasses and camera.
Walk back to the dogs as a group with the Guest Wrangler.
Get introduced to your guide and loaded into your cart.
Watch the guide hook the dogs to your cart.
Enjoy a 4.5 mile trip out on our private trail system.
Take pictures and learn about your sled dogs.
Return to the kennel.
Pet, kiss and take close up pictures with your sled dogs.
Thank your guide and head back to the check-out area.
Shop for amazing Dog Sled Rides of Winter Park merchandise.
Leave a tip for your guide and settle your bill.
Tell all your friends about us!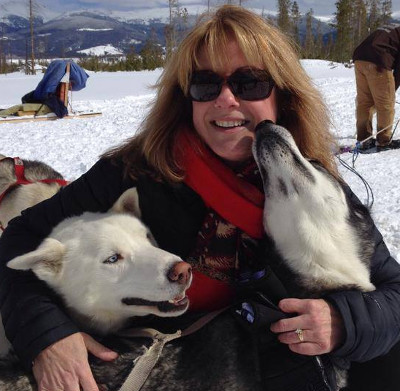 Here is a cart ride on snow from November 2011. See more videos here.
To see the path we take on a typical cart ride, visit our trip page.
On the ride, we can accommodate one, two or sometimes three (or four) guests in each cart. The weight limit is less of an issue with carts, but we like to be around 450 pounds or less.
One of the fun things about the carts is that we let one of the passengers steer and use the brake. You can prepare for your ride by reading the driving instructions. We are there for guidance and can take over if you like. The dogs get pretty hot pulling without snow on the ground, so we have to stop in the shade occasionally to cool them off. We also stop for a water break or two where the guests can take pictures if they like. We can also take pictures from the front of the team with all the dogs and guests in the background. Along the way, the guide will point out any wildlife tracks (or actual wildlife such as moose and coyotes), take pictures for the guests and answer any questions about dogsledding or local history, attractions and activities.
The trip covers about four and a half miles in about 40 to 50 minutes (depending on temperature and the number of water stops). The trails are situated on private property and we cannot allow guests to hike on the trails. We get to see some amazing views along the way including 13 thousand foot peaks, the Continental Divide and Winter Park Ski Resort.
We offer cart rides at sunrise, sunset and sometimes in between if it is cool enough on the days that we are not running sleds and when the trails are dry enough.
Reservations are required for all services. You must have a major credit card to pay a 50% or 100% deposit at the time of booking.
You can see a checklist of what it takes to get ready, perform, and clean up after a summer, dog-powered cart ride here.
Call (970) 387-8326 or click here to schedule the experience of a lifetime.
Risks and Rules
If you are coming for a ride with us, it is helpful to read our risks and rules before you show up. We will review these with you before your trip, but if you already know them, your time with us will be safer and more enjoyable. Also below is a waiver. If you have a large group coming, it is helpful to have the liability waiver signed by everyone before you show up as well. It saves a little check-in time.