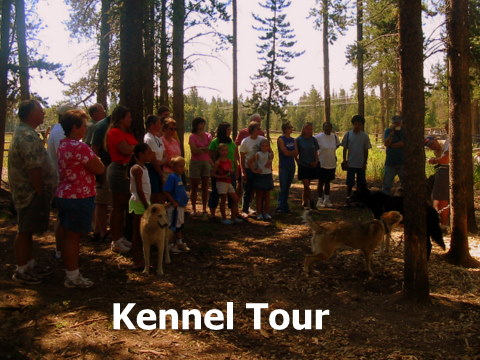 Virtual Kennel Tours
Call (970) 387-8326 or click here to schedule the experience of a lifetime.
Virtual Kennel Tours follow the same basic structure of a regular kennel tour, except you can partake from anywhere in the world. We utilize Google Hangouts to bring the experience of a kennel tour to you when you are unable to come in person. The tour fits in well with classrooms reading "Stone Fox", "Winterdance", "Call of the Wild" or following the Iditarod.
Tours can be scheduled year round. The available times in winter are limited since we are driving sleds on most days.
Tour outline
If you do not have a specific area you would like to focus on, the general topics that we cover include the following.
Discuss food and nutrition
Discuss veterinary care
View the dog yard
Discuss and see the differences between Siberian and Alaskan huskies
View and discuss the sled
Discuss the life cycle of our dogs
Possibly see a team of dogs leave with guests.
Cost
The virtual tour is an economical alternative to visiting the kennel in person. We charge $1 per viewer with a minimum charge of $50. Instead of loading in a bus, packing lunch, and incurring the loss of time, just stay in the classroom and have us come to you.
The Tech
We are currently using Google Hangouts for the tours. This requires a google account and a relatively fast Internet connection.
Recommendations
The tips below help make the experience smooth and enjoyable for everyone.
Practice the technology before the scheduled tour.
To help picture quality, turn off your video transmission to us.
Think of a few questions or topics that you want us to cover and email those to us before the tour.
Have one person near the microphone who can communicate with us.
That person can relay questions to us instead of passing around a microphone in the audience.
Here is a short look at the dog yard. See more videos here.
Call (970) 387-8326 or click here to schedule the experience of a lifetime.
Risks and Rules
If you are coming for a ride with us, it is helpful to read our risks and rules before you show up. We will review these with you before your trip, but if you already know them, your time with us will be safer and more enjoyable. Also below is a waiver. If you have a large group coming, it is helpful to have the liability waiver signed by everyone before you show up as well. It saves a little check-in time.