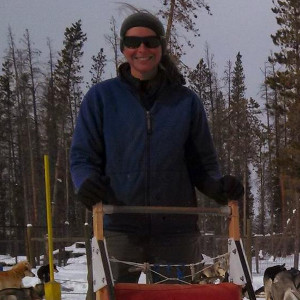 Christina Fesz
Starting Mushing in 2012

Where are you from?

North Olmsted, Ohio, a suburb of Cleveland. I've been on Colorado full-time since June 2012.

Favorite trip Conditions:

Couple inches of fresh snow, not windy. Every once in a while, you get the trip where it's snowing really hard, like big fat flakes, and you're just gliding through it, but it's not that cold, and sometimes even clears up partway through the trip... those are wonderful.

Favorite dog: Depends on the day...

and the trip for that matter. I like each one for different reasons, whether it be their goofy antics, their strength, or the ability to rely on them as smart, competent leaders.

Favorite thing to see on trail:

I like seeing some crazy inversion layers on the horizon during the first trip of the day, I like seeing the snow sparkle in the sun, and it's neat watching snow storms come in, but I really love that moment when each dog on the team has hit their gait and is working hard and there is just that perfect rhythm and just watching their muscles work. Wildlife that keeps it's distance is obviously cool too.

What do you do when you are not driving sleds?

Winter time: ski, eat lots of pizza.
Summer: mountain bike, run, hike/explore, triathlons.

What is your favorite part of the trail?

The S turns through the trees on the miracle mile, and the slight downhill through the trees once you turn off of the fence-line that opens up to an awesome view of the ski area and the divide as you land on the moon.

What is your favorite restaurant in town?

I like grabbing a brat for lunch at Fraser Valley Hot Dog, Carver's has quick and tasty breakfast, and Elevation Pizza is a staple of my winter diet.

What other jobs have you had?

I worked at a pet store and strawberry farm for stints in high school. In college I worked as a reporter/writer/videographer, producing articles and short videos for the university's online newsletter. In the summers, I work for the forest service. During the seasons of 2011-2013, I worked for the White River National Forest in Summit County in the recreation and trails department. For summer 2014, I worked for the range department of the San Juan National Forest out of Durango, CO.

Dog Sled Rides of Winter Park Career

2017-2018, 297 adventure trips and counting...
2016-2017, 390 adventure trips.
2015-2016, 495 adventure trips.
2014-2015, 396 adventure trips.
2013-2014, 383 adventure trips.
2012-2013, 184 adventure trips, 5 cart trips, 189 total trips.