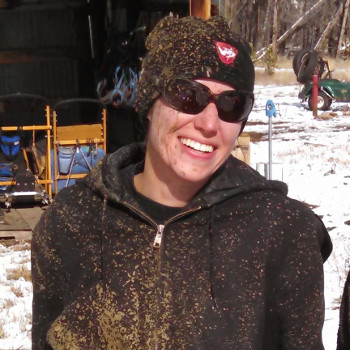 Beth Blanding
Starting Mushing in 2014

Where are you from?

I grew up on a dairy farm in Albany, Minnesota

Favorite trip Conditions:

A bit of fresh snow, sunshine, blue skies with crazy cloud formations. I really enjoy the scenery around me, especially when sun and cloud shadows create dramatic views of Byers Peak.

Favorite dog:

Aside from all of them, I really enjoy watching the older dogs run who don't get to go out everyday. Their enthusiasm is contagious. It is easy to tell that these dogs love every sled trip they get to run on.

Favorite thing to see on trail:

Guests having a blast! I love the scenery and the dogs working together and everything that goes with it, but it makes me happiest to know that other people are having a great time and enjoying the experience with me.

What do you do when you are not driving sleds?

I enjoy snowboarding, skiing, hiking, snowmobiling, cross country skiing, reading, going to the hot tub, eating as much as I can, mountain biking, rafting, traveling, visiting friends and family.

What is your favorite part of the trail?

The Miracle Mile; the first mile of the trail.

What is your favorite restaurant in town?

Pearl Dragon in Granby. They have the best General Tsao's Chicken I can find anywhere and the service is spectacular! It is family owned; everyone who works there is full of character and even remember your name.

What other jobs have you had?

Whitewater raft guide
Bus driver
Housekeeper
Gardener
High Altitude Custodial Engineer, but really a janitor
Canoe/Kayak Guide in the Boundary Waters and Apostle Islands
Recreation Supervisor and Program Leader
Trip Leader for a summer camp
Campus Security Guard
Cheese Bagger at a Kraft Cheese plant
Dairy Farmer

Dog Sled Rides of Winter Park Career

2017-2018, 14 trips.
2016-2017, 194 trips.
2015-2016, 320 trips.
2014-2015, 333 trips.